Dr. Franks' highly trained orthodontic team is the very best! They are passionate about orthodontic care and love having fun while creating incredible smiles.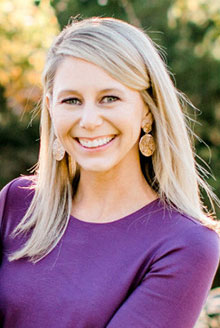 Dusty
Office Manager and Treatment Coordinator
For Dusty, having braces was a life-changing experience, so helping others experience the same transformation is a true passion.
Her job includes making sure patients and their families have the best possible orthodontic journey. It's her upbeat voice you'll hear when you call the office. She'll help you make appointments and handle your financial and insurance needs, too. If there's anything you need, don't hesitate to let her know!
Outside of the practice, she likes staying active. She enjoys running, playing tennis, paddle boarding, spinning, and basically everything athletic! She also enjoys cooking and vegetable gardening. Before working in orthodontics, her career was in television production for ESPN. She traveled the country and parts of Europe to cover NASCAR, tennis, Indy Car, and college football and basketball as part of the live production team. She loves watching tennis and is a huge Roger Federer fan!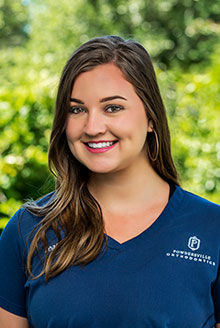 Leah
Assistant
As someone who was in Dr. Franks' patient chair not too long ago, Leah can ensure that you will love your new smile! Leah says, "The atmosphere at Powdersville Orthodontics is unbeatable. Being able to work with people that are so passionate about their job is inspiring. You will never leave without a smile on your face!"
Leah's job includes assisting Dr. Franks in the clinic and coordaining patient schedules. For Leah, having braces was a fun and exciting experience. She loves going on that journey with patients and is happy to answer any questions they may have, especially if it's about permeant retainers!
Outside of school and work, Leah loves spending time with her friends and family. Leah enjoys spending her days on the lake, at the beach, or anywhere with water and sunshine. In the fall, she loves drinking hot cocoa and watching Clemson football. Go Tigers!!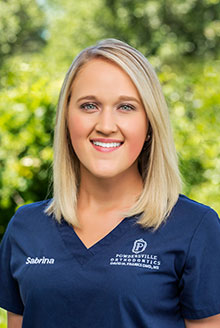 Sabrina
Assistant
Sabrina joined Powdersville Orthodontics after completing her Associate's Degree in Applied Science, with a diploma in Dental Assisting from Greenville Technical College.
Sabrina works alongside Dr. Franks in the clinic assisting with all aspects of patient care, including the new patient appointment.
Sabrina loves the fun environment Dr.Franks creates and how hard he works at putting the patients care first.
In her spare time, Sabrina enjoys being with family and friends, going to church and working out. She is a native of South Carolina and loves fall weather, country music concerts, and trips to the mountains. She has a rescue dog named Molly that is a beagle mix.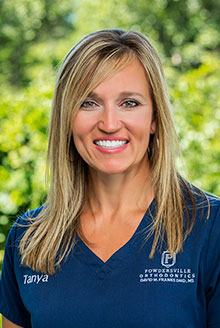 Tanya
Assistant
Creating beautiful smiles is a true passion for Tanya. She began her career in orthodontics over 20 years ago after graduation from Greenville Technical College with a diploma in Certified Dental Assisting.
Tanya enjoys teaching fitness classes at the YMCA, running, lifting weights and weekend bike rides. She has been married to her high school sweetheart Russ for 23 years. They have 3 children, 3 dogs, and 1 horse.
Tanya LOVES Clemson Football -- GO TIGERS!